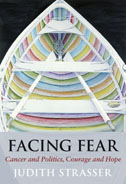 Facing Fear: Meditations on Cancer and Politics, Courage and Hope
by Judith Strasser
"We are all going to die. The real question, the question basic to confronting our fears, is how are we going to live." – from Facing Fear
After the presidential campaign and election in 2004, Judith Strasser set out to investigate the nature of fear and its widespread use as a political campaign strategy. After flying to Seattle to conduct research for her study of political fear, Strasser returned home to a diagnosis of stomach cancer. Facing Fear traces Strasser's attempt to understand the nature of fear and anxiety and to regain control of a life threatened by a fatal disease. Part memoir, part journalism, and all heart, her book explores our biological and psychological responses to fearful events, examines the culture of fear in which we live, and suggests ways in which we, both as individuals and as members of a community, can overcome our anxieties and face our fears with courage and hope.
"Facing Fear covers a large array of terrifying situations, ranging from the author's own cancer to murders of a peace community in Colombia, with an eye on how ordinary people have managed not to be overwhelmed, not to be hysterical, but rather to live as much and as calmly as possible in the present." – James P. Gustafson, M.D., professor of psychiatry, University of Wisconsin–Madison
"I was reading Judith Strasser's brilliant examination of the cross-section between violence and hatred during the same week that a gunman who wanted to kill liberals and homosexuals attacked a children's show at a Unitarian meeting house in Tennessee. We live in tenuous times when unspeakable crimes are committed. But those crimes are not unexplainable--at least not for those in possession of Strasser's compelling consideration of our difficult circumstances and prospects for escaping them." – John Nichols, correspondent for The Nation
Judith Strasser (1944–2009) was the author of a memoir, Black Eye: Escaping a Marriage, Writing a Life, and two poetry collections: The Reason/Unreason Project, which won the Lewis-Clark Press Expedition Award, and Sand Island Succession: Poems of the Apostles. Judith wrote about life and health on her blog, In Lieu of Speech. She was formerly a senior producer and interviewer for To the Best of Our Knowledge, a nationally syndicated public radio show. She lived in Madison, Wisconsin.
220 pp. 5 5/8 x 8 3/8 inches
$19.95 Paper
ISBN 978-0-9768781-9-3
2008