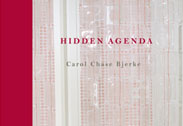 Hidden Agenda
by Carol Chase Bjerke
Intensely personal and unique art that gives voice to an unspeakable medical topic. Hidden Agenda documents Carol Chase Bjerke's large-scale multifaceted art project about living with an ostomy after treatment for colorectal cancer. An ostomy is a surgical reconfiguration of the intestine to create an opening in the abdominal wall through which body wastes pass. Addressing quality-of-life issues ranging from questions of identity and privacy to specifics of management and self-care, this book is about relentlessness and repetition and time measured in medical supplies. Bjerke conveys vast amounts of information and provides an entree into long-overdue discussions about what many would designate as a crude and outdated medical procedure that is still used as state-of-the-art treatment for a variety of gastrointestinal diseases. Intensely personal yet tastefully, thoughtfully, and beautifully wrought, Bjerke's artwork not only provides one woman's story about living with an ostomy but also serves as inspiration, affirmation, and support for patients, family members, artists, and everyone interested in the healing power of creativity.
"With dark humor, irony, compassion, and keen sense of self, Bjerke navigates through the different personas of rectal cancer survivor, medical patient, healer, and most importantly, artist, to produce Hidden Agenda, a work that is the cure for cynicism and despair. Her work is about transformation. We are gutted but we go on." – Patrick Nagatani, fellow rectal cancer survivor and professor emeritus, University of New Mexico
Carol Chase Bjerke has been a self-employed artist and teacher since 1976 and is currently an instructor of book arts and photography at the University of Wisconsin School of the Arts at Rhinelander and the Center for Photography at Madison. Her artwork has been exhibited internationally and is in numerous private and public collections, including the Kohler Art Library in Madison, the Special Collections in the Golda Meir Library at the University of Wisconsin–Milwaukee, and the National Museum of Women in the Arts in Washington, D.C.
70 pp. 11 x 8 1/2 inches
63 b/w and color illustrations
$45 Cloth
ISBN 978-0-9815620-0-1
2008