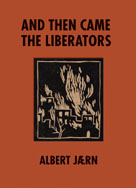 And Then Came the Liberators
by Albert Jærn
Albert Jærn captures in words and woodcuts the atrocities and indignities Norwegians witnessed during their country's five year long occupation by Hitler's forces, 1940–1945. Jærn (1893–1949) worked as a book illustrator for Aschehoug, a well-known publishing house, where he also produced the cover art for some 500 books. As in this wartime diary, Jærn favored block cuts of wood or linoleum. In simplified lines and surfaces, free of affectation or exaggeration, he captured the point he wished to communicate and managed to make something new each time.
Keeping this wartime journal put Jærn in great personal danger. He scrupulously hid this work away in a secret safe, which despite repeated Nazi raids and ransacking of his home, went undiscovered by the occupiers. After peace came to Norway, in 1945, the notes and woodcuts were published by Ekko Forlag, which had been shut down by the Nazis during the occupation, as Og så kom befrierne: Utdrag av min dagbok gjennom 5 år. The present volume is an English translation of that 1945 publication.
Jærn published his diary in the hope that his countrymen would "never forget" their ordeal. He wanted Norwegians to remember their own confusion and fear as well as the enemy's tyranny and oppression. The book is a documentation of the occupation and an appreciation of Jærn's artistry and bravery.
Albert Jærn was born on August 4, 1893 in Kristiania. His was baptized Albert Marinius Jensen, but took the name of Jærn when he decided that he wanted to be an artist and designer. By the age of fourteen, he was working as an apprentice for his father who was also an artist and designer. In 1913 he started working for a book printer, and it was here that he was first inspired to become an illustrator. In 1924 he delivered his first illustrations to H. Aschehoug Publishing Company and through the years he designed over 500 book covers for them. Designs in Indian ink were his specialty, but woodcuts and linoleum cuts were also close to his heart, as demonstrated in his daybook And Then Came the Liberators. Albert Jærn died on October 9, 1949, at the age of 56.
The book is translated into English for the first time by Norwegian genealogist Solveig Schavland. An Afterword, newly written for the book, is provided by Scandinavian scholar Kathleen Stokker. The book is edited and produced by writer and publisher Richard Quinney.
Solveig Schavland is a researcher and translator at the Norwegian American Genealogical Center and Naeseth Library in Madison, Wisconsin. She is the author of the memoir Leaving Norway. She was born in Stavanger, Norway on the day of the occupation.
Kathleen Stokker, Professor of Norwegian and Director of Scandinavian Studies at Luther College where she has taught since 1978. The co-author (with Odd Haddal) of the Norwegian language textbook Norsk, nordmenn og Norge (1981), she has also written Folklore Fights the Nazis (1997), Keeping Christmas: Yuletide Traditions in Norway and the New Land (2000), and Remedies and Rituals: Folk Medicine in Norway and the New Land (2007). For her work in strengthening ties between today's Norwegian Americans and their ancestral homeland, Stokker received the St. Olav Medal (2005) and a private audience with King Harald V.
Richard Quinney is author of several books that combine autobiographical writing and photography including Journey to a Far Place, For the Time Being, Borderland, Once Again the Wonder, Where Yet the Sweet Birds Sing, Of Time and Place, Field Notes, and A Lifetime Burning. A retrospective of his forty years of photographing is contained in his book Things Once Seen. His other books are in the field of sociology. He has established Borderland Books as an independent publishing house of crafted books. He lives in Madison, Wisconsin.
"This book is about me and mine during the war years but that is the way it had to be. Only in this way and no other way could I write about what had happened. But I believe that most people here have experienced something similar, and therefore I hope that this journal can serve as a journal for many others. Most of all, I hope that the younger generation will find something that they will always remember about tyranny and oppression. We must never forget what happened. It could happen that one or another crazy person would want to start a war again." – From the Foreword by Albert Jærn, 1945
240 pp. 6 1/2 x 8 3/8 inches
Over 100 woodcuts by Albert Jærn
$30 Cloth
ISBN: 978-0-9815620-7-0
2011