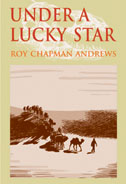 Under a Lucky Star
by Roy Chapman Andrews
Under a Lucky Star is the autobiography—the lifetime of adventure—of the explorer Roy Chapman Andrews (1884–1960). Adored by the public and pursued by the press, Andrews came as close to superstar status as any explorer in the twentieth century. Much of Under a Lucky Star focuses on his grandest adventure, the legendary Central Asiatic Expeditions. This series of five daring journeys into uncharted expanses of the Gobi Desert produced a previously unsuspected treasure-trove of dinosaur remains. As archaeologist and biographer Charles Gallenkamp writes in the Foreword to this new edition of Under a Lucky Star: "Organized under the auspices of the American Museum of Natural History and heavily financed by Wall Street titans and public donations, the Central Asiatic Expeditions were immense in scope and logistical complexity. Operating from a lavish headquarters—once a sprawling Manchu palace in Beijing—Andrews and his companions challenged the Gobi using automobiles supported by camel caravans, an audacious concept denounced by many skeptics as foolhardy if not impossible. In the course of their travels the explorers confronted raging sandstorms, extremes of heat and cold, political unrest, and marauding bandits, among other hazards. In retrospect, the Central Asiatic Explorations constituted one of the truly innovative episodes in the annals of scientific discovery—an enterprise that forever changed the nature of exploration." The Gobi region explored by Andrews and his team of scientists proved to be one of the most prolific on earth for late age dinosaurs, and it continues to yield extraordinary paleontological discoveries.
Roy Chapman Andrews (1884–1960) became fascinated with the natural world during his childhood along the Rock River in Wisconsin. After attending Beloit College, Andrews traveled to New York and asked for a job at the American Museum of Natural History, where he started as a janitor and eventually became the director of the museum.
Under a Lucky Star has been named by Discover Magazine as one of the 25 best science books ever written. Long out of print, it is again available to inspire readers and explorers of all ages.
280 pp. 5 7/8 x 8 1/2 inches
$25 Cloth
ISBN 978-0-9768781-8-6
2009