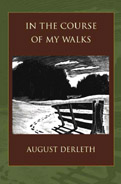 In the Course of My Walks
by August Derleth
Edited by Richard Quinney
Reflections on nature from celebrated author August Derleth.
August Derleth lived all of his life in Sauk City, Wisconsin, a source of inspiration and substance for his vast range of writing, including In the Course of My Walks. While exploring the meaning of the lives of the men and women in the village on the banks of the Wisconsin River, the natural background—fields, woods, plants, marshes, water, and the wild creatures of the land and sky—was ever present in his writing. Derleth identified with Henry David Thoreau's ideas of living deliberately and confronting only the essentials of life. He thought of his own home near the Wisconsin River as "Walden West." In the Course of My Walks is a shining representation of his astute and contemplative regional writing.
August W. Derleth (1909-1971) sold his first story at fifteen and was an established author by the time he graduated from the University of Wisconsin in 1930. Among his some 150 published works are volumes of poetry, fiction, biography, children's stories, and criticism, including The Wisconsin: River of a Thousand Isles and Walden West, both published by the University of Wisconsin Press.
This book contains excerpts from Derleth's Return to Walden West.
88 pp. 5 3/8 x 8 1/8 inches
Woodcuts
Cloth $25
ISBN 978-0-9815620-2-5
2009