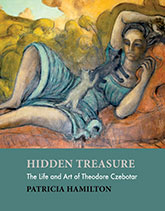 Hidden Treasure: The Life and Art of Theodore Czebotar
by Patricia Hamilton  
When American modernist Theodore Czebotar (1915–1996)—Wisconsin born and raised—died at age 81, he left behind in every nook and cranny of his tiny Fishkill, NY atelier the remarkable remains of his life's singleminded purpose. Water colors, oils, pencil on paper and thick pastels (some ten thousand pieces in all) vied for space among teetering mounds of scribbled ideas, sketchbooks, essays, letters and loose-leaf ventings about art, artists, critics and dealers, wealthy patrons, useless educators and peers foolish enough to conform to the demands of the outside world.
Hidden Treasure: The Life and Art of Theodore Czebotar examines the life and times of this compelling artist who turned away from the brush of early fame in Manhattan for a hidden life that offered the creative integrity and self-determination he required. The author is the artist's niece and accessed personal papers, diaries and remembrances of remaining family and friends in addition to research material publicly available. Her focus is on the artist's Wisconsin roots, his journey toward creative actualization, the personalities and relationships that shaped him, the landscapes that captivated him and, in a prologue and epilogue written in the style of memoir, on the odyssey his family has taken to reclaim him.
Discovered by John Steuart Curry when Curry served as the University of Wisconsin's first Artist in Residence, Czebotar was, at the time, steeped in the kind of poverty that bent the lives of many Americans during the Depression. He lived with his Polish immigrant parents and his passel of siblings in Racine, in house after house destined for foreclosure. His father was dying of TB, his older brother had just spent a year in the Green Bay Reformatory (burglary in the nighttime), while his mother urged him away from education in any form. But Theodore—self-disciplined, ambitious and held in awe by others who saw brilliance in him—remained committed to painting, poetry and to the possibilities of fame.
An accomplished hobo by the time Curry took notice, Czebotar had already hopped many freight trains to explore the west, a landscape that burrowed into his subconscious and sowed the seeds for his obsessive, lifelong drive toward the artistic expression of the aboriginal. Even as his first one-man show in Manhattan touted him as the newest face of American Regionalism, Theodore sought to refine the scenes before him—city or country—to find their vital core.
A quintessential character, Czebotar early adulthood was shaped by travels with aspiring writer and artist John Lange (unknown today, Wisconsin born Lange broke into short story writing in Scribner's Magazine). Toughened by years on the road, Czebotar was thought by Curry to be rude, arrogant and ungrateful. Maynard Walker, the prominent Manhattan dealer Curry and Czebotar shared, suggested Czebotar might be, instead, just a bit unhinged. For their part, the New York papers were enamored of the hobo artist who was, The New Yorker was happy to report after Czebotar's 1937 debut, making "something of a sensation in artistic circles here."
Czebotar's larger story includes friendships with William Saroyan, Henry Varnum Poor, Joe Jones, John Heliker, Don Freeman, Marshall Glasier and other notables of the time. He exhibited alongside them and with other artists of the day including Grosz, Burchfield, Pittman and Doris Lee. Unlike his peers, however, Czebotar began to experience success as a kind of weighted strain. When he simply refused to exhibit publicly anymore in the late 1950s, friends and family debated whether it was paralyzing fear or supreme self-assurance that fueled his stubborn resolve.
While Czebotar regularly visited Wisconsin until 1976 when his mother died, he had relocated to New York in the early 40s to marry designer and collage artist, Els Snapper, the Dutch-born only daughter of internationally esteemed physician Isidore Snapper (a biography of Snapper is currently being written by Dr. Arie Berghout of the Netherlands). A talented, amusing chronicler of her life and times, the fragile, fascinating Els maintained her own wide ranging friendships with New York's creative class. She enjoyed an emotional, close relationship with tragic German stage actress Eleonora von Mendelssohn, for example, and a lifelong friendship with Vanity Fair editor and man about town, Leo Lerman. In Czebotar she found what she considered the ideal American man: rooted in the values of the Midwest but committed to a larger vision.
When the Czebotars died within months of one another in the early part of 1996, the childless couple left their mutual arsenal of art to his family back in Wisconsin. Nonplussed by the enormity of what was left behind, the family has worked over the years, albeit haphazardly, to restore Theodore's place as a compelling figure in 20th Century American art.
Czebotar's personal story is intriguing and paints a picture of a world in which a poor, midwestern artist could still ride into town on a rail and realize success. As the author is neither art historian nor curator, she does not attempt to parse the qualities of Ted's work, preferring to let the art speak for itself through the book's photographic reproductions. For students of art history, the biography opens the door to further research and writing about the impact and importance of the work of Czebotar and other artists of his time. The biography also invites further exploration of America's mid-century art scene before the massive influx of commercialization and branding common today.
The writer is a summa cum laude graduate of Carthage College, Kenosha, Wisconsin, with a degree in English. She spent more than 21 years as a Public Relations executive at SC Johnson in Racine where she was responsible for creative communications in publications, special events, speeches, scripts, global conferences and other vehicles. Most recently she wrote and produced the website theodoreczebotar.com to give viewers' a better sense of Czebotar and his work.
334 pp. 7 x 9 inches
28 b/w photos, 25 color illus.
$29. Hardcover
ISBN: 978-0-9835174-9-8
2016