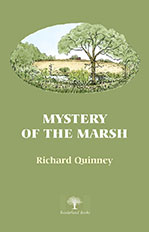 Mystery of the Marsh
by Richard Quinney  
A coming of age story, a tale of the mystery of the marsh on the family farm in Wisconsin.
As the sun sank below the far horizon, the boy walked out of the long driveway lined with tall Chinese elms and walked down the winding road toward the old place. His ancestors had settled there nearly a hundred years before. On a gentle hill sloping to the marsh, they had built their house. They and their descendents had farmed the land. On the day of his thirteenth birthday, not knowing what the future might hold, the boy began what would be a year away from his family, exploring the lessons that the marsh had to teach.
– from Mystery of the Marsh
The result, decades later, is this little book modeled after an early printing of John Greenleaf Whittier's book of poems SnowBound. Clothbound with original art on the title page.
68 pp. 4 1/2 x 7 1/4 inches
$20. Cloth
ISBN: 978-0-9965052-4-6
September 2016