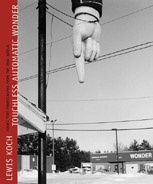 Touchless Automatic Wonder: Found Text Photographs from the Real World
by Lewis Koch
"Lewis Koch takes the weird world and makes it look real." – Barbara Crane, artist/photographer
Created as a poetic and visual journey, Touchless Automatic Wonder spans twenty-five years and four continents. These striking photographs capture "found text": the sometimes mysterious, occasionally humorous, often cryptic presence of words in the everyday landscape. This intriguing approach at the intersection of language, image, and the social landscape will appeal to readers interested in contemporary art and photography, popular culture, and conceptual concerns both literary and visual.
"Absolutely brilliant! … Koch's camera eye is like a fist that punches the daylights out of the nightmares we call life. His word pictures are the ransom note we write to death." Michael William Doyle, author of Imagine Nation: The American Counterculture of the 1960s and 70s
Lewis Koch is an artist whose work has been shown in sites from garages to museums and solo exhibitions in New York, London, Brussels, Seoul, Toronto, Los Angeles, and Chicago. His photographs are in permanent collections throughout the United States and Europe, including the Metropolitan Museum of Art, Whitney Museum of American Art, Maison Européenne de la Photographie, San Francisco Museum of Modern Art, and Museum of Contemporary Art-Chicago. As artist-in-residence at Copenhagen's Fotografisk Center in 2001, Koch created the Web project Touchless Automatic Wonder, which was the precedent for this book. For more information, see www.luminous-lint.com/app/photographer/Lewis__Koch/A/
112 pp. 8 3/4 x 10 1/2 inches
80 duotone illus.
$45 Cloth
ISBN 978-0-9815620-4-9
2009